What is Physical inactivity?
Physical inactivity is defined as an insufficient level of moderate to vigorous intensity physical activity regarding the physical activity guidelines.(3)
Not to be confused with sedentary behavior, which has its own negative effects on health, and is defined as any waking behavior characterized by a very low energy expenditure (≤ 1.5 kcal/kg/hour), while in a sitting, reclining, or lying posture.(4)
What are the risk factors?
Strong scientific evidence exists for physical inactivity as a primary and actual cause or risk factor for most major chronic diseases, including:
Hypertension and stroke

Type 2 diabetes(5)

Obesity and overweight(5)

Bone health and osteoporosis(6,7)
Cancer, particularly breast and colon cancers(6)

Brain health and conditions that affect cognition such as depression and anxiety, and Alzheimer's disease(6,8)

All major cardiovascular diseases, i.e. diseases
that affect heart and blood vessels(9)
Although less known, some lifestyle and occupational activities are also well-identified risk factors for venous diseases.(9)
Indeed, venous reflux, i.e. the stasis of blood in legs, that causes venous insufficiency symptoms is clearly associated with lack of physical activity and absence of regular exercice.(9,10)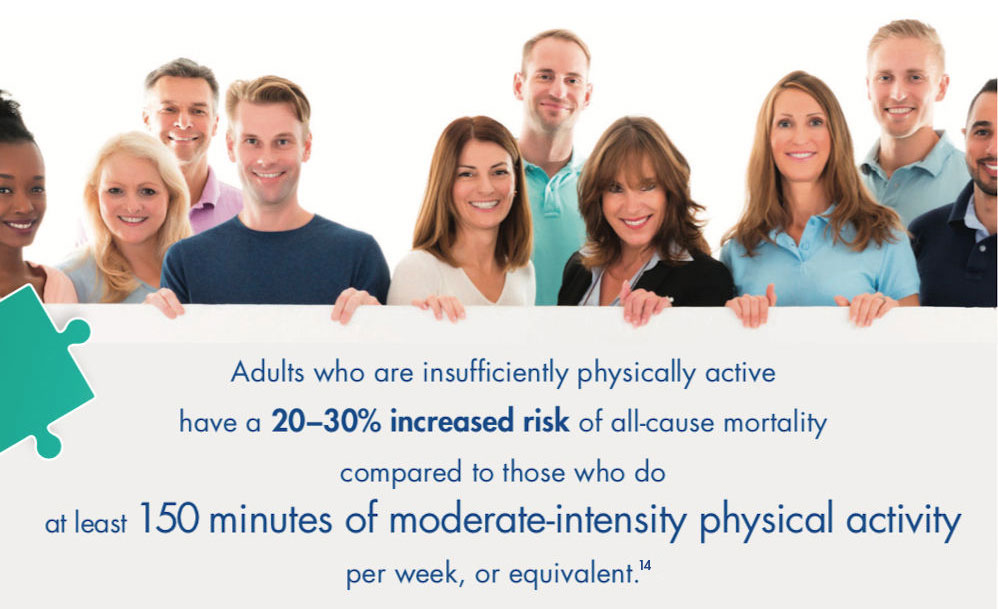 What is Physical activity?
Physical activity is defined as any bodily movement produced by the contraction of skeletal muscle that increases energy expenditure above resting metabolic rate.(12)
MODERATE-INTENSITY (13)
Moderate-intensity physical activities take some effort, but you can still speak easily while doing these activities.

Brisk walking, recreational swimming, household tasks, riding a bike, gardening.
VIGORОUS-INTENSITY (13)
Vigorous-intensity physical activities require more effort, making you breathe harder and faster.

Aerobics, running team sports or hard manual labor, fast cycling or swimming.
MUSCLE-STRENGTHENING
Muscle-strengthening activities cause the body's muscles to work or hold against an applied force or weight.

Yoga, lifting heavy objects multiple times to strengthen various muscle groups, working with resistance bands.
How walking decreases venous stasis?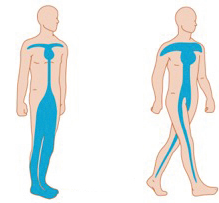 Walking, even a few steps, significantly improves venous flux and symptoms in healthy individuals. The venous pump function can also be reactivated by activities such as biking, swimming or aquagym.(11)

Preferably, aerobic activity should be performed in bouts of 10 minutes or more ans spread throughout the week.
Physical activity guidelines
Describe the amount and types of physical activity that offer substantial health benefits.
The WHO (World Health Organization) recommends that each adult aged 18-64 should accumulate at least.(5)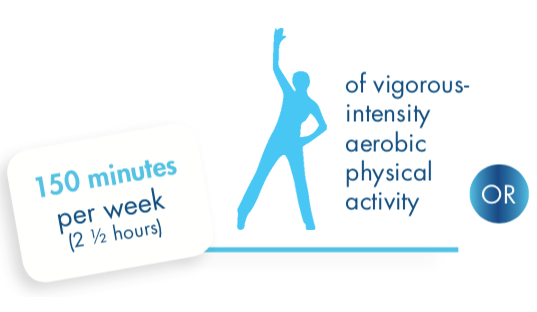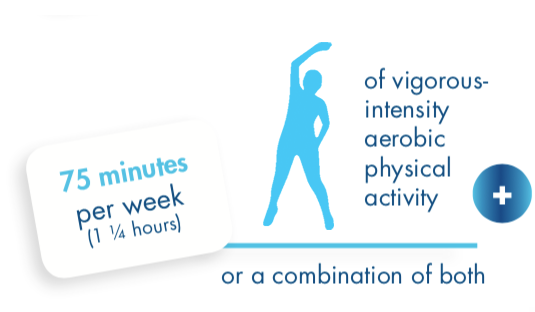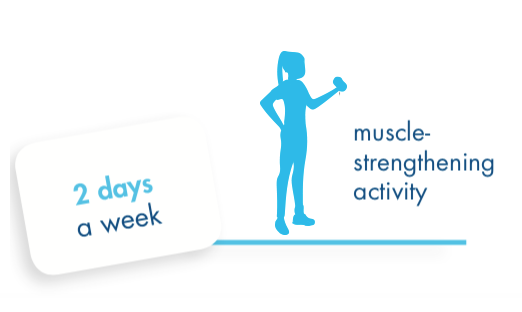 Practical Advices
Physical activity needs to be a regular and permanent habit. There are multiple ways of accumulating the total of 150 minutes per week of moderate-intensity physical activity.
MOVE MORE…
Do what you can, some physical activity is better than none.
Integrate physical activity as part of your every day life: spread it throughout the week.
Start slowly if you have been inactive for a long time and increase gradually the amounts.
Speak with your doctor or health professional if you're unsure about your health or how active to be.
Wear appropriate clothing and footwear, eat well and drink enough water.
… SIT LESS!
Plan your physical activity. Make a regular time for it in your diary.
Set some realistic and reachable goals and break into smaller ones.
Track your progress using step-counting devices (e.g. podometer) or any other apps (e.g. Map my walk/hike/ride under Armour) to motivate yourself.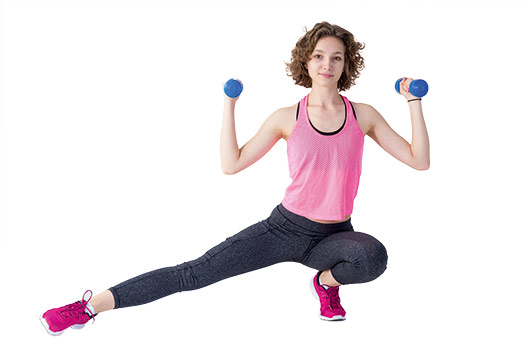 Physical activity practical advices
Along your route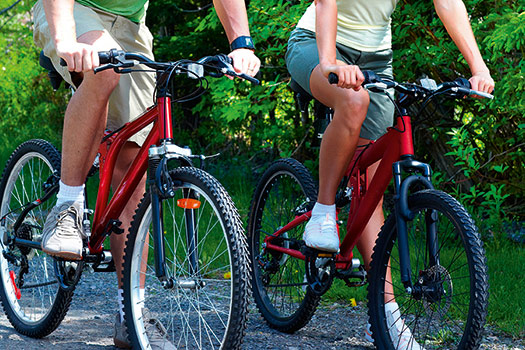 For short trips, walk or cycle and leave the car at home.
For longer trips, walk or cycle part of the way.
Use the stairs instead of the lift.
Get off the bus one stop earlier and walk the rest of the way.
At work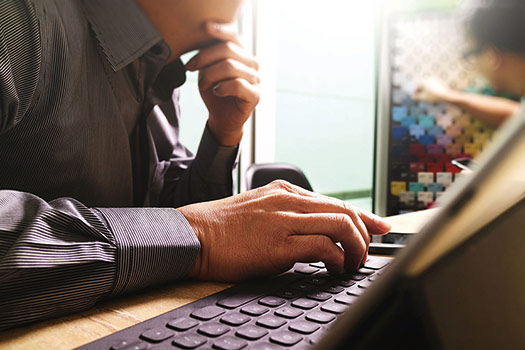 Walk instead of emailing or making a phone call.
Leave your desk at lunch time and enjoy a short walk outside.
Organize walking or standing meetings.
Take a break to move or to stretch at your desk.
Active and fun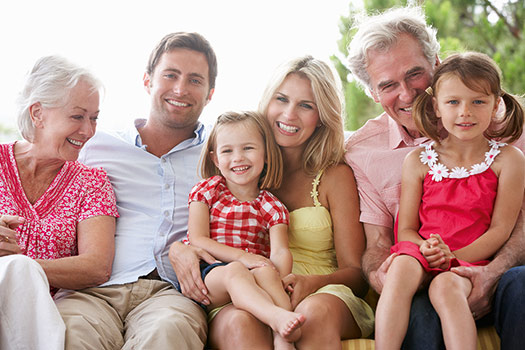 Catch up with friends for a walk, instead of sitting to chat.
Plan outdoor activities, like bike riding or walking.
Try indoor activities like dancing, indoor swimming, squash or indoor rock climbing.
Why should we follow WHO's recommendations?
Having a regular moderate-to-vigorous physical activity as recommended by the WHO can(15):
Reduce the risk of:

All-cause mortality by 33%;
Cardiovascular disease;
Type 2 diabetes and help control blood glucose;
Developing some cancers.

Maintain or improve blood pressure.

Help prevent unhealthy weight gain over time.

Slow the decline in bone density and the loss of muscles.

Reduce the feelings of anxiety.